Buying property: house or flat?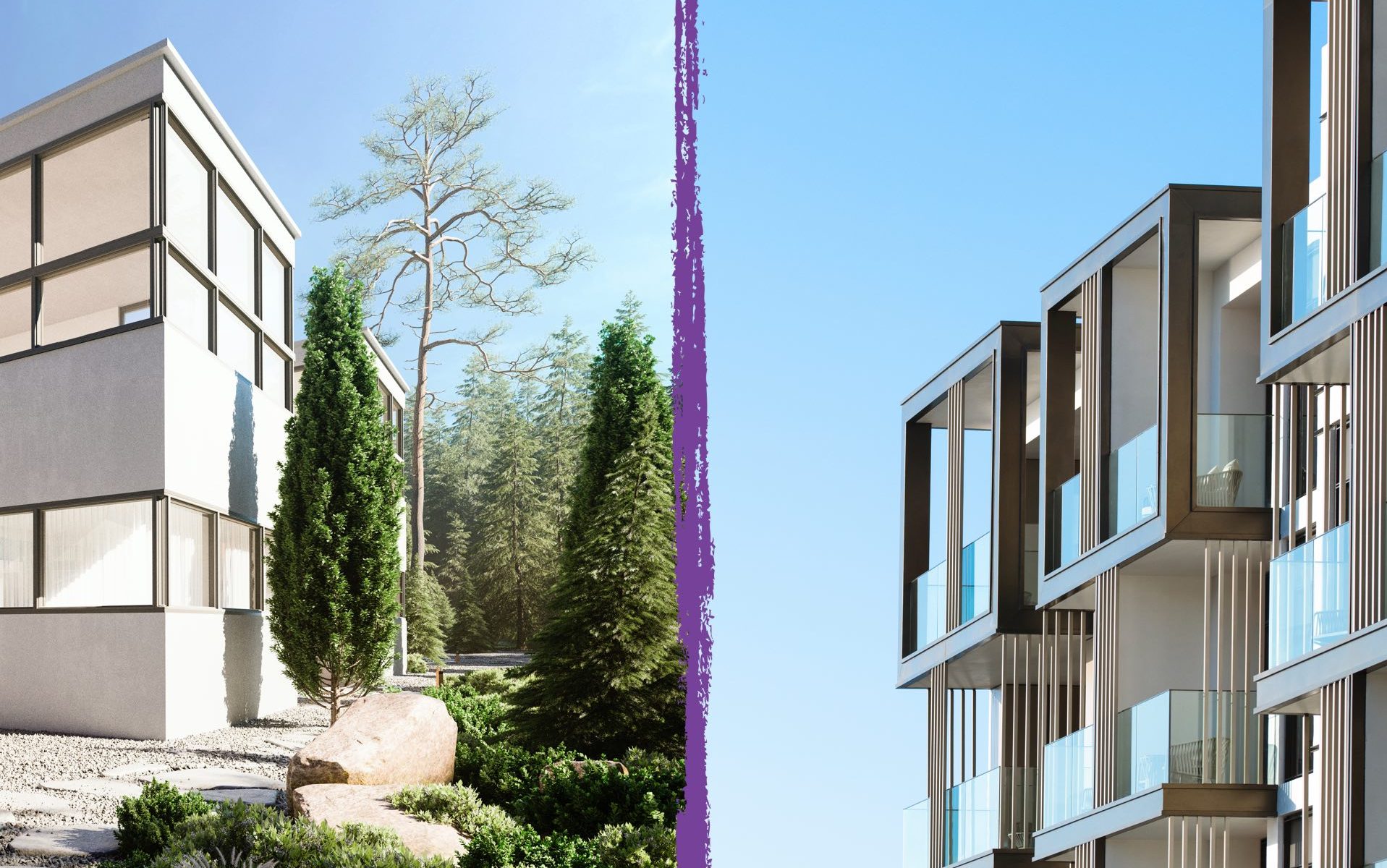 Planning to invest in real estate? That's great news! But should you buy a house or a flat? While 82.9% of residential properties in Luxembourg are single-family homes, the proportion of blocks of flats has grown by 15.7% since 2001. It's important to consider this matter carefully before taking the plunge, so myLIFE has compiled an overview of the pros and cons of both types of property.
To help you in the home-buying process, this article uses criteria related to your lifestyle and finances to see how these two types of home measure up. It goes without saying that the process is fraught with pitfalls and our analysis is neither unbiased nor exhaustive. However, the purpose of this article isn't to impose our particular point of view. Instead, we'll be raising the various points we think you should consider before opting for a house or flat – without losing sight of the other criteria that should also have a bearing on your decision.
The lifestyle perspective
House
Flat
And the winner is...
A house might have a garden, an outdoor seating area or even a pool.
A flat might come with a balcony or (small or large) outdoor seating area, but a garden is unlikely and a pool would be almost unheard of.
HOUSE
A house offers space and amenities that you would struggle to find in a flat.

Houses offer a greater degree of privacy from your neighbours, although terraced/semi-detached houses are common in Luxembourg.
If you live in a flat, your neighbours are never far away.
HOUSE
If you like listening to loud music or having friends over all the time, living in a house will save you a lot of trouble and complaints from your neighbours.
A house will generally mean a quiet environment, even in the middle of the city.
If you live in a flat, the environment tends to be livelier and more urban.
HOUSE
If you love silence and being surrounded by greenery, a house will be the best option for you.
Houses often come with garages or somewhere you can park easily.
Finding somewhere to park can quickly turn into a headache if you live in a flat without a car park, especially in busy neighbourhoods.
HOUSE
If you use your car every day, or if it's very valuable, having a garage will protect your vehicle and give you peace of mind.
Unless you live in one of the few bungalows designed with accessibility (for elderly people/those with reduced mobility) or safety (for those with small children) in mind, stairs will be part of your daily life.
Getting around inside a flat is easy and risk-free. On the other hand, you'll have to take the stairs if you live in a building without a lift and your flat isn't on the ground floor.
DEAD HEAT
While a bungalow is more accessible than an upstairs flat in a building with no lift, the opposite is true if you compare a ground-floor flat to a multi-storey house. It all depends on your personal and family circumstances, as well as your life plans.
If you live in a house (provided it isn't a listed building), you're free to renovate and modify it as you see fit, when the time is right for you.
If you want to renovate or modify your flat, you'll need permission from the co-owners' association insofar as your plans affect communal areas, change the external appearance of the building or threaten the building's structural integrity.
HOUSE
You own your home outright and nobody can prevent you from changing the interiors or layout.
Do you like pets? You can collect furry friends to your heart's content. And they can have free run of the garden at all times!
Your pet must not disturb other co-owners. Your co-owners' agreement may bar you from keeping "aggressive" or "exotic" pets (e.g. reptiles, serpents, spiders, etc.).
HOUSE
With extra space to roam and fewer restrictions on ownership, houses are the clear choice for people with pets.
Houses tend to be further from shops, services and public transport. It's important to have a vehicle for the household – and patience in traffic jams.
Flats are often located in the city centre, near the services you use every day. Plus, good public transport links reduce commuting times.
FLAT
Flats are often better located in terms of mobility and access to shops and services.
The financial perspective
House
Flat
And the winner is...
A house is usually more expensive than a flat, despite the fact that flats are more expensive on average per square metre.
Whether you're looking for an investment or somewhere to live, a flat is a more affordable choice. It's also typically easier to find tenants for a flat than a house.
DEAD HEAT
The price per square metre is higher for a flat. A flat might be a better way to get on the property ladder or invest if you're on a tight budget, though.
If you own a house, there are more upkeep costs and charges and they all come out of your pocket – property tax is just one example.
Setting aside upkeep costs inside your flat, charges for communal areas and property tax are shared among all of the building's co-owners.
FLAT
On a day-to-day basis, living in a house and maintaining it generally costs more than living in a flat.
Depending on its price and location, a house may take longer to sell.
City-centre flats tend to sell more quickly because they're a popular choice among young couples and investors.
FLAT
A flat is a more liquid asset than a house. This point is particularly important if you're making a purchase for investment purposes.
On average, house prices rise more slowly than flat prices.
The upward trend in flat prices (especially for old flats) seems limitless. It's a windfall for investors – so long as the market doesn't turn!
FLAT
Flat prices are rising faster than house prices. This means that the yield at the point of sale will be higher in percentage terms if the trend continues.
So, where does all this leave us? In terms of lifestyle, detached houses are the clear winner, particularly for those with a big family. The only drawback is access to shops and services. The location of the property obviously plays a key role. From a financial perspective, a flat is a more affordable choice. Flats also tend to achieve higher yields when they're sold on, although they don't offer as many amenities. This consideration is even more important if you're buying property as an investment. Demand is a lot higher for flats and so they're easier to sell. Of course, all of the issues raised in this article should be considered in the context of the location of the property, your personal and family circumstances, and your life plans. It's up to you to make a choice based on your preferences and resources. If you can't choose, you could always opt for one of the many town houses Luxembourg still has to offer. You'll need to have deep pockets, though!