Startuppers Night – Episode IV: the geekiest yet!
Tickets for the fourth BIL Startuppers Night sold out, drawing more than 500 guests to Technoport on 22 October. It was a resounding success devoted to the start-up ecosystem, packed with fun and geeky frivolity. The event featured virtual reality, innovative tech and start-ups, as well as an escape game, simulators and cosplay. Highlights from this vibrant evening of sights, sounds, tastes and surprises.
Fun, relaxation and technological revelations – that's how we would summarise our crazy, geeky night on Tuesday 22 October. No wonder it was a full house at BIL's now-traditional Startuppers Night, held in partnership with Technoport in Belval. Over 500 startuppers, entrepreneurs and members of incubators, accelerators or coworking spaces accepted our invitation for this unforgettable evening.
Out-of-this-world exhibits…
Guests were in for a surprise before they even set foot in the building: a 12-metre X-wing fighter straight out of the Star Wars universe was waiting to greet them at the entrance to Technoport. What better way to kick off a fun and geeky night? After a few photos, it was straight to the upper floor of the building where the party was already in full swing with a robotics competition organised by Planète Sciences and PM-Robotix.
In a contest on the theme of chemical elements, the machines were tasked with categorising, sorting and weighing atoms (represented by coloured discs) that would be turned into a brand new element in the particle accelerator.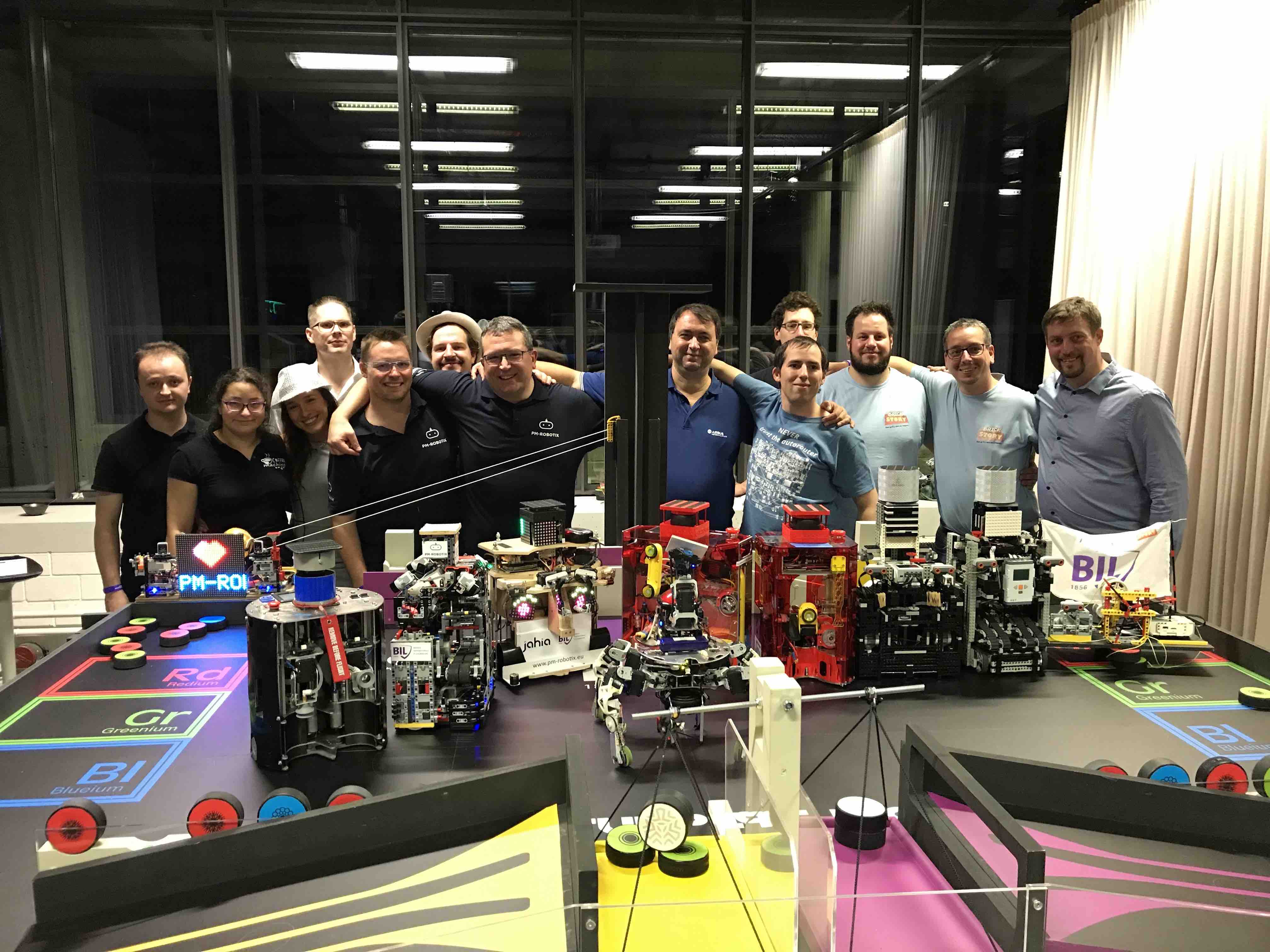 The four teams competing (PM-Robotix, Goldorak, CoffeeMachine and Brickstory) were cheered on by the crowd and commentators. Ultimately, the Brickstory robots demonstrated the most ingenuity, securing a victory for the team.
"This is the first robotics competition organised in Luxembourg," says Christophe Debauche, Treasurer of PM-Robotix . "They existed in France, Belgium and Switzerland already, but never before in this country! It means a great deal to us to be able to attend this Startuppers Night, especially since most of the team members work in Luxembourg."
Start-ups from Luxembourg and further afield…
After an encounter with the incredible Xachikoma created by Xevel – an autonomous spiderbot that can breathe and move on its own – guests met Mu Design's "Lua" prototype: an adorable, connected and very expressive flowerpot! A little further along, Keymitt's smart lock had attracted a crowd of curious onlookers, as had the inventions being presented by Polaar Energy and electronic engineering firm Firis, as well as Lion Nano-Systems' cutting-edge scientific instruments.
There's no doubt about it: Startuppers Night was on another level this year! Plus, for the first time ever, an entire area was set aside for entrepreneurs from France. The start-ups in the French Tech East corner sparked plenty of interest among guests. Exhibitors included Chrono-Caisse, which has developed a touchscreen cash register app for retailers, Coworking&Co, which partners with restaurants and hotels to offer coworking spaces, and CockpIT, which has built an app aimed at construction professionals, not to mention Aqoona, Fair&Smart, etc.
"This evening is really going to kickstart the Luxembourg ecosystem," explains Claire Crugnola, Deputy Director for French Tech East. "For our entrepreneurs in an accelerator programme, this ecosystem represents a gateway to the rest of Europe (in addition to being an attractive market), which is why it's so important to us to be here and meet the start-ups and people involved."

Geeky music and entertainment
Whenever they wanted, guests could take a break from discussing the latest innovations in the start-up community to test out their reflexes and immerse themselves in virtual reality through experiences with Virtual Rangers – who have been Startuppers Night regulars since the very first event – as well as VR-Land and VR World One.
After some light refreshments, a few of the bravest guests ventured into a glass-walled room that had been completely redecorated for the night… They tried to back out, but it was too late: they found themselves playing the protagonists in a horror film orchestrated by the escape room 216K! Only the very best contestants made it out alive.
Luckily, guests could get over their fright by taking a seat in the gaming and simulator booths that had been installed for the evening, where they enjoyed entertainment courtesy of 11F Gaming and LuxCon. That's when the evening's cosplayers made a grand entrance with costumes and roleplaying games worthy of the Star Wars highlights reel!
As the evening progressed, a live DJ played a great set that got Luxembourg's start-up community dancing late into the night.
"Entrepreneurs can discuss their latest round of fund-raising over a cocktail, then test their reflexes on a vintage arcade simulator game!"

An innovative, fun and open community
Startuppers Night is a chance to celebrate every aspect of the start-up community. It is where directors and staff have an opportunity to let their hair down and enjoy a wide array of entertainment. "Above all, it's a fun and relaxing event," explains Pierre-Olivier Rotheval, Head of Marketing and Innovation at BIL and the organiser of the night. "Entrepreneurs can discuss their latest round of fund-raising over a cocktail, then test their reflexes on a vintage arcade simulator game. The event is just like the community: innovative, fun, open and geeky!
Plus, BIL is firmly committed to supporting start-ups through its involvement in the Digital Tech Fund seed fund, InnovFin funding packages, providing short-term office space and assisting incubators," he adds. "Supporting, connecting and assisting entrepreneurs is part of our identity. So it was only natural that we would organise an opportunity for them to let their hair down in their own special way."
All in all, it was a great opportunity to let off steam and meet up in an unusual setting! The success of Episode IV demonstrates, once again, the dynamism of Luxembourg's unique start-up community.
Story and pictures on the website: BIL Innovation