What's the difference between a traditional bank, an online bank and a neobank?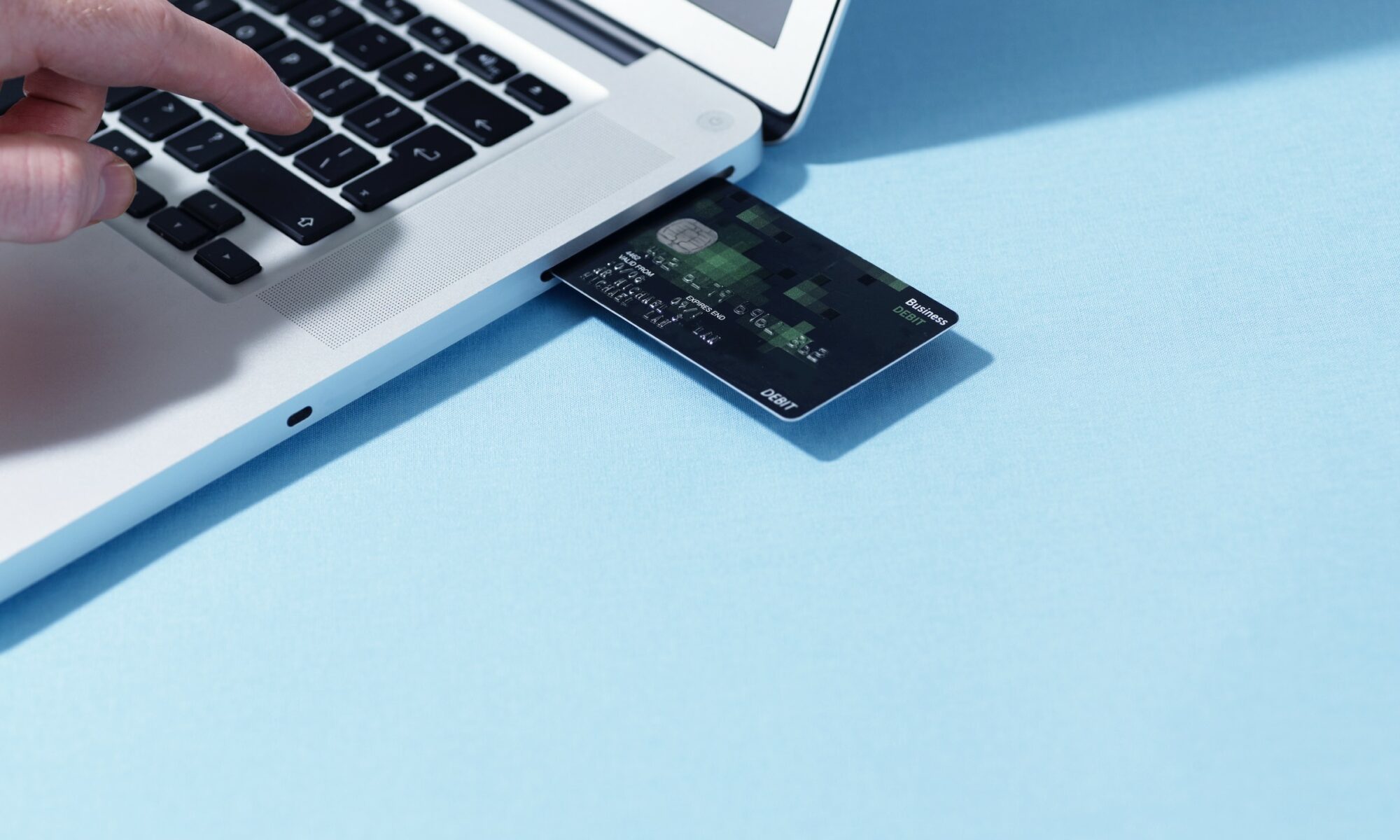 If you've gotten used to your bank and how it works over the years, online banks and neobanks may leave you scratching your head. Do they offer the same services as a traditional bank? Are they just as secure? Will they meet your needs? myLIFE has the answers to all your questions.
No two banks are the same
The first key point to make is that there are different kinds of bank just as there are banks of differing quality. Online banks, like the traditional banks you grew up with, are credit institutions and typically subsidiaries of large banking groups. They have no physical branches and their services are only accessible over the internet via a computer, tablet or smartphone.
Conversely, most neobanks are payment institutions whose activities are much more limited than those of a credit institution. This remains the case even when a neobank has a banking license. Often devised by FinTech companies (start-ups that use technology to improve financial services), they offer innovative and intuitive banking services predominantly via smartphone.
⇒ These structures should not be confused with the remote banking services a traditional bank might provide so that its clients can manage their bank accounts through the bank's website or mobile app.
NB: some neobanks have their registered offices in other countries. Bank accounts opened with them are classed as foreign accounts and must be declared to the tax authorities in the holder's country of residence.
The services on offer
Traditional banks offer the widest array of banking services: bank accounts and cards, loans, savings products, stock market investments, personalised advice, insurance and foreign exchange operations, etc. They offer clients the option of carrying out certain operations at a branch (with or without assistance from a bank employee) and others independently using remote banking. The online solutions they offer are improving all the time and are increasingly competitive with those of digital-only players.
Improvements to the services offered by online banks are gradually bringing them closer to those offered by traditional banks.
Similarly, improvements to the services offered by online banks are gradually bringing them closer to those offered by traditional banks. Just a few years ago, online banks only offered a limited range of services. Now, in addition to their routine operations, online bank clients can secure attractive savings rates, take out loans and even invest in certain types of product. That said, not all standard banking products are available from every online bank yet. It's also worth bearing in mind that the account opening process at an online bank can be more onerous than at a traditional bank: in principle, applicants must be able to demonstrate that they meet the minimum monthly income threshold and make an initial payment of an amount specified by the bank. Lastly, online banks' services tend to be reserved for residents of the country in which the bank operates, whereas this isn't the case for traditional banks.
Neobanks are a bit different from the two types of bank discussed so far. Opening an account is quick and easy. There are (in principle at least) no income criteria to meet or minimum deposits. On the other hand, the banking services on offer at neobanks are limited to withdrawals, payments and credit transfers. It's not usually possible to open a joint account, access an authorised overdraft, take out a loan or invest via a savings product. And it's easy to overlook the fact that the IBAN of the account will be linked to the country in which the bank is located. This also has an impact on the "nationality" of the credit card and any services linked to it. Apple's App Store, for example, requires the use of a card issued in the user's country of residence.
NB: It can be difficult, or even impossible, to deposit cash with an online bank or neobank. The lack of physical branches means you can't visit one to deposit cash, although some institutions that are subsidiaries of large banking groups allow clients to use their parent company's ATMs.
Client autonomy
Traditional banks are constantly improving their digital services to offer clients greater independence in terms of bank card requests, account opening, adding new beneficiaries, budget management tools, card blocking, mobile payments  and Apple Pay, etc.
> However, some banking operations cannot yet be carried out without support from an adviser at certain institutions.
At an online bank, the client is self-sufficient and able to carry out all operations online without having to go through an adviser.
> The lack of interaction with an adviser can complicate matters, though. This is particularly true of clients with an atypical profile, who don't fit into the exact mould set by the bank or who have specific needs.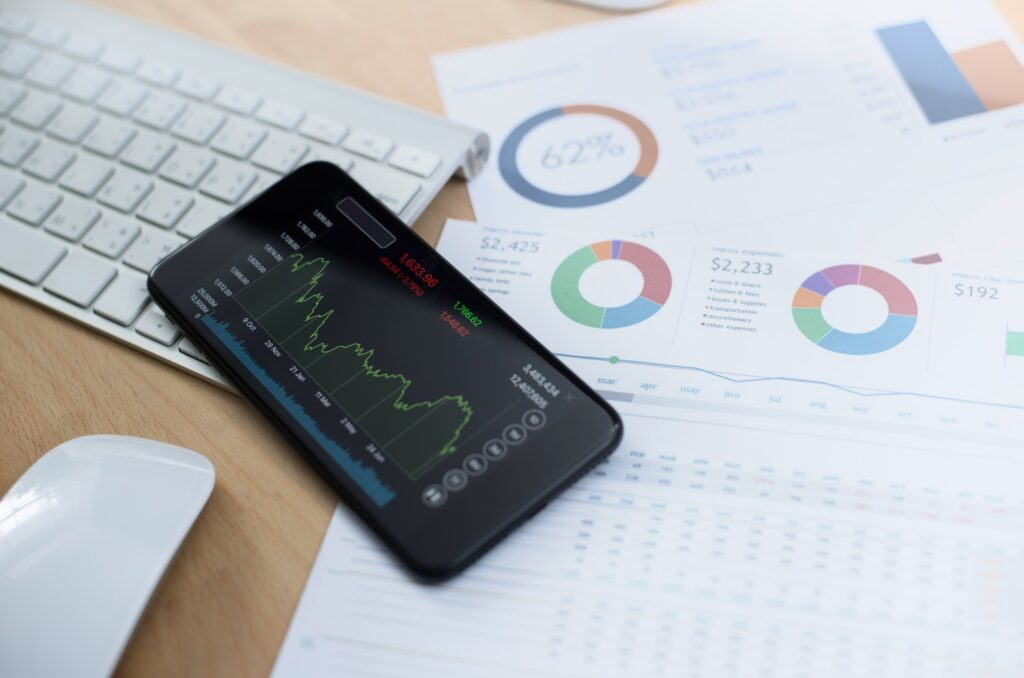 Neobanks offer their clients unfettered freedom, as well as innovative features designed to help them with the day-to-day management of their finances.
Neobanks offer their clients complete autonomy, as well as innovative features designed to help them with the day-to-day management of their finances. These features include real-time monitoring of spending (some traditional banks offer this too), account aggregation, payment by text message or email, optional savings pots, activation/deactivation of contactless payment, authorisation of foreign transactions and handling of cryptocurrency (at some neobanks), etc.
Advice and availability
Traditional banks have the advantage of offering human interaction in branch, over the phone or via secure messaging. Clients can make an appointment to speak with a banking expert face to face. This means they can build up a genuine relationship of trust with their account manager: someone who knows them, understands the local context and is able to offer advice tailored to their situation and that of their whole family. This person can answer their questions and provide them with guidance on managing their budget or achieving a life goal. He or she can also help with specific matters requiring in-depth expertise, such as estate planning, tax, setting up a company, asset management, investment, etc.
At an online bank, financial advisers are available and can be contacted over the internet (by email, instant messaging, webcam, social media) or by phone. Phone lines are often open outside of standard office hours (e.g. until 8pm or 10pm on weekdays and Saturdays). On the other hand, the client doesn't have a designated adviser and can only communicate with the bank remotely. This isn't what could be classed as personalised support. Plus, if the client decides to reach out to an adviser despite having the option to carry out an operation autonomously, they may be billed for the privilege.
Lastly, at a neobank, clients manage their finances themselves and their communications with the bank are limited to interactions with customer services (sometimes mere advice bots) by instant messaging or over the phone.
Bank fees
Traditional banks charge slightly higher fees than those of the other two types of bank because of the additional overheads they need to pay and the quality of the services rendered. That said, more and more of them have welcome offers and fees tailored to the profiles of their clients. This means that their fees are very competitive compared with those of online banks for clients who only want to use online services.
Online banks and neobanks have more attractive fees due to lower operating costs (no branch network, smaller workforce, no account management fees, etc.). They offer competitive prices for banking operations including payments and withdrawals abroad and they attract new clients with welcome offers, referral bonuses and even certain bank cards. Bear in mind that their services aren't free, though, and there may be extra charges for many operations. For example, payment issues, non-use of your bank card, communication with an adviser, and certain credit transfers and withdrawals may all be out-of-pocket expenses.
Traditional banks still provide most reassurance for the client thanks to their longevity, experience and extensive branch network, and the fact that they offer assistance from a dedicated adviser.
Security
Traditional banks still provide most reassurance for the client thanks to their longevity, experience and extensive branch network. Clients also appreciate the fact that they offer assistance from a dedicated adviser and deposit protection against bankruptcy of up to EUR 100,000.
Just like standard banks, online banks are subject to regulatory constraints. As such, they provide equivalent guarantees, most notably as regards deposit protection.
Lastly, while neobanks are also subject to controls as payment institutions, they don't offer the same guaranteed protection as the two other types of structure even though they have banking licences. You would also benefit from deposit protection as a neobank client, but it would probably be harder to exercise this right in practice – especially if the bank is based thousands of miles away in Eastern Europe.
Summary table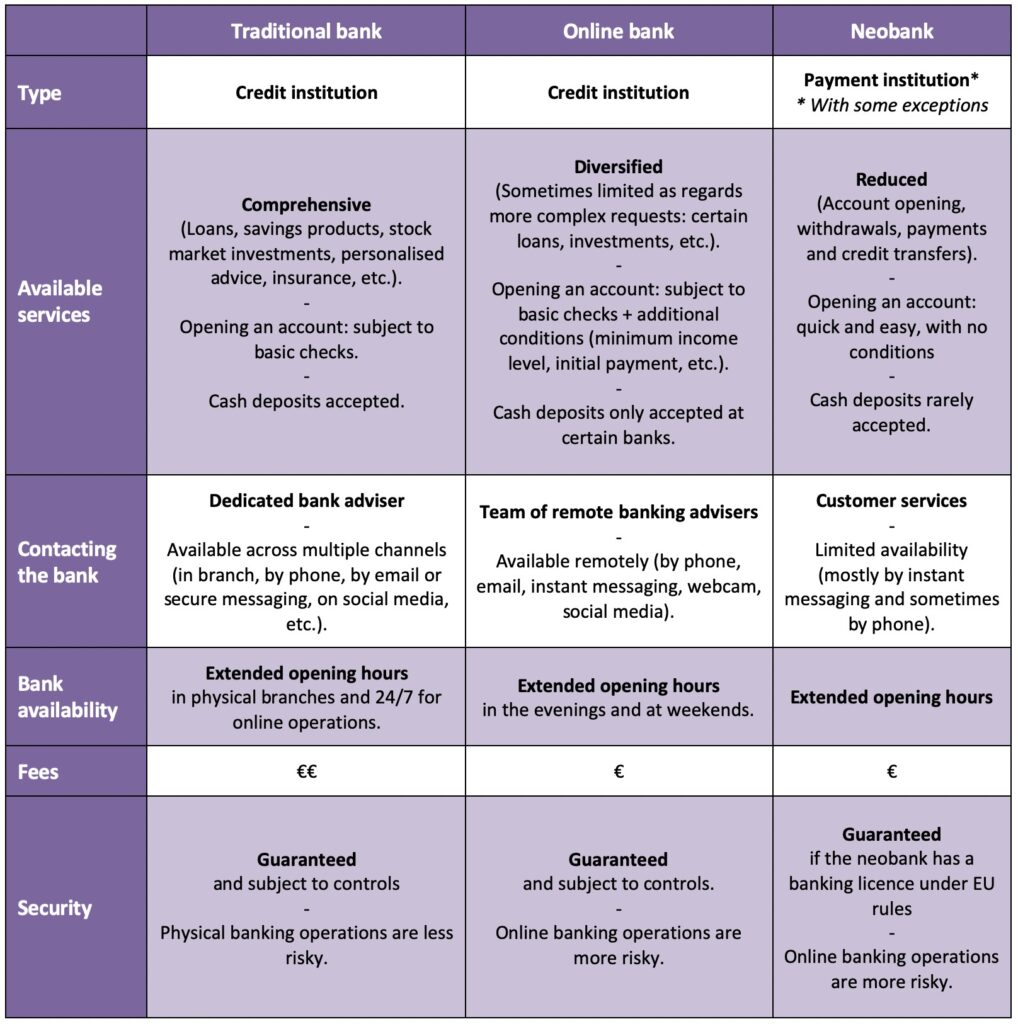 Deciding whether a traditional bank, an online bank or a neobank is right for you is largely a matter of your profile and needs. Are you comfortable with the internet and new technologies? Are you planning complex investments? Do you expect your bank to provide you with guidance and support when you need to make financial choices? Do you need to deposit cash in your account? Do you want complete control over the management of your finances?
The answers to these questions will help you to choose the structure that is most suited to your expectations and needs. As a final point, remember that most traditional banks have fully embraced digital and their remote banking solutions rival those of internet-only structures. If you're still not convinced, we recommend that you take a look at the standalone products and packages on offer to compare actual prices across institutions.