Top 10 banking transactions you can do from home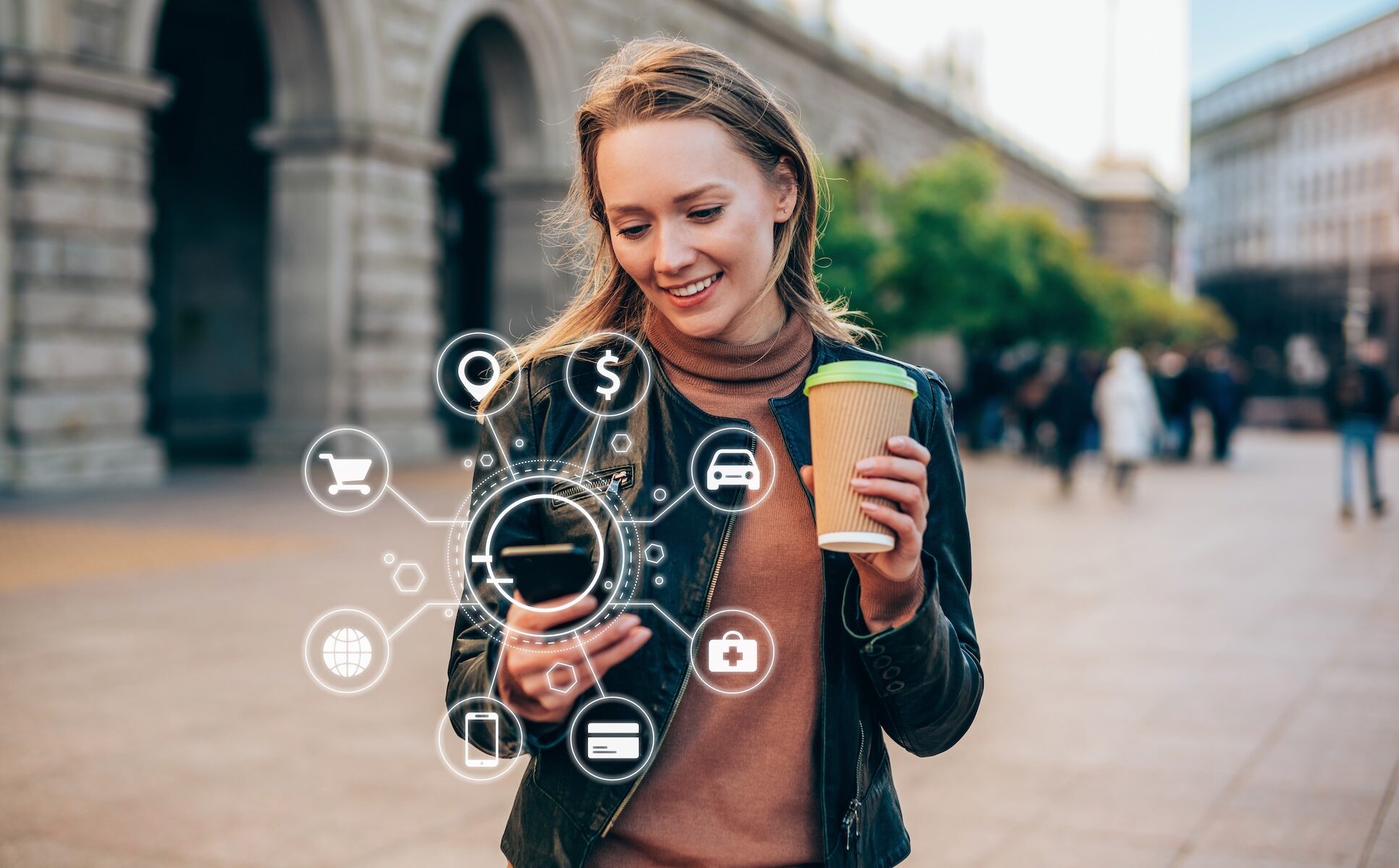 Online banking services are constantly changing to offer new features. They allow you to do your day-to-day banking and more, entirely online. No need to visit your local branch – in just a few clicks you can manage your finances securely. Let's take a closer look at the top 10 bank transactions you can do from home!
Queuing at the counter of your bank to check your accounts, make a transfer or generate a bank account details slip is a thing of the past! Now your bank is accessible online – anytime, anywhere. Save time and manage your money independently on your computer, tablet or smartphone by logging into your secure client area on the bank's website or mobile app. myLIFE has listed the top 10 banking transactions for you that can be done from home*.
Consult your bank accounts
Using your online banking service you can access all your bank accounts: current accounts, savings products, loan accounts, securities accounts, etc. You can also consult your account movements and monitor your finances daily to avoid overdrafts and spot an error or possible fraud more quickly. In some cases, not only is it possible to open a new bank account online, but also to view or even block a direct debit mandate without having to go to your branch. Some banks also provide you with an account aggregator that allows users to consolidate all of their bank accounts in a single interface, no matter which bank they are held with.
→ Notifications: real-time notifications can be sent to your smartphone to alert you of account movements, a limit being exceeded or a payment made with your bank card, for example.
In some banks, you can transfer funds in real time, 24/7.
Make credit transfers
Your bank's online services allow you to make one-off or regular transfers between your different accounts or to an external beneficiary. You manage the list of your beneficiaries and all you have to do is enter the recipient's IBAN (found on their bank account details slip) to make a transfer. You can also set up standing orders (automatic transfers) for recurring payments: paying a bill, paying rent, transferring money into a savings account, etc.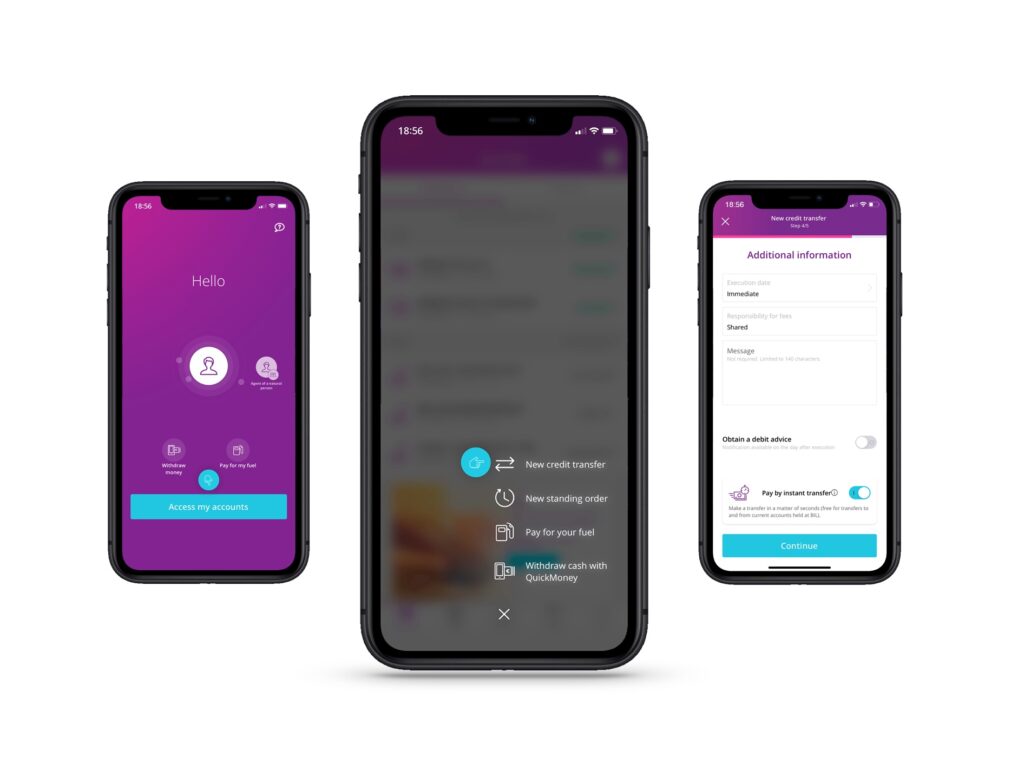 Useful info: SEPA (Single Euro Payments Area) transfers let you make transfers in euros anywhere in Europe under the same price, time or security conditions.
→ Instant credit transfers: In some banks, you can transfer funds in real time, 24/7. A convenient option for quickly sending money that will be instantly available to the recipient. Note that there may be a charge for this service depending on the circumstances.
Manage your payment methods
By connecting to your online banking service, you can manage your different payment methods: order a new debit or credit card, change payment limits, or temporarily or permanently block your bank card at any time in the event of loss or theft – saving precious time in an emergency! In addition, you can view the your card balance and get real-time notifications. This helps you make sure that the purchase has gone through or detect a suspicious movement
→ Mobile payment: Many banks allow you to set up mobile payments in their secure environment. You can add a credit card to a payment app (Apple Pay, Payconiq, Garmin Pay, Fitbit Pay, etc.) to enable you to make purchases using your smartphone or smartwatch.
Useful info: some banks have developed more innovative payment services for clients using their banking app. We could mention, for example, cash withdrawals from an ATM using your smartphone instead of your bank card.
Some financial institutions allow you to take out banking products or sign documents online through electronic signatures.
Access and generate your electronic documents
All of your banking documents can be viewed and downloaded online: account statements, debit advices, credit card statements, information notices, etc. They remain accessible and are archived for 5 to 10 years, depending on the bank, in your secure client environment.
You can also easily publish and share your bank account details (RIB) or even generate a debit advice to provide proof of payment for an public authority, for example. Lastly, you can do your bit for the environment and go paperless, getting bank correspondence sent electronically rather than by post.
→ Electronic signature: Some financial institutions allow you to take out banking products or sign documents online through electronic signatures. This is done using a LuxTrust product and has the same legal value as a handwritten signature.
Validate online payments and purchases
When you make a purchase on a retail website, in addition to your banking information, you are asked to authenticate yourself in order to confirm your identity. This can be done in various ways: a notification to be validated in your banking app, a one-time code, fingerprint recognition, etc. In Luxembourg, many establishments use LuxTrust solutions (Token, LuxTrust Mobile, etc.) alongside 3D Secure technology to secure online payments. See: LuxTrust: secure online shopping and admin! 
→ LuxTrust Mobile: In Luxembourg, this app can be used instead of your Token to securely validate your online payments. The physical Token is being phased out, so consider downloading it!
Organise and stick to your budget
Some banking apps offer a budget management system. Income and expenses are categorised automatically, providing an overview of your finances: salary, food, leisure, health, eating out, etc. The display can be personalised and often allows you to establish schedules or set limits by categories.
Monitor and manage your investments
You can follow trends in your investments and the financial markets from your banking app or website. You can buy and sell securities, access your stocks, bonds, structured products, and place stock market orders in real time. You can also create a virtual portfolio or a list of your favourite securities to follow changes as they happen.
→ Investor profile: Your online bank may suggest that you define your investor profile in your personal area to help you optimise your investment strategy.
Simulate loans
Are you looking to buy a car or take out a mortgage? If your bank offers it, go to the website to perform a loan simulation. Not only will you save time, but you will also get an idea of the amount you can borrow and your likely monthly repayments. It's also possible to ask your banking adviser for one from your secure environment.
Update your personal data
Are you moving house, changing your telephone number or email address? Update your personal data directly from your bank's secure environment without making a trip to the branch or contacting your bank adviser!
Even though online banking allows you to save time and be more independent in your day-to-day admin, your banker will always be there for you.
Have a chat with your banking adviser
Even though online banking saves you time and allows you to be more independent in your daily admin, your banker will always be there for you via secure messaging. They can give information about how to manage your accounts, discuss a loan application or make an appointment to go over more complex topics: wealth management, investment, inheritance, etc.
→ Video conferencing: Some meetings with your Relationship Manager can be held via video conference. This convenient and secure service offers the same advantages as face-to-face, but from the comfort of your own home!
How to access online banking services
If you do not yet have access to online banking, ask your branch or adviser so that they can activate the service – normally free of charge – and tell you how to proceed. You can then log in to your secure client area through your bank's website or the mobile app. To ensure your operation is completely secure, the login method will vary depending on the bank and whether you're on mobile or desktop.
NB: Please be careful when you log into your online banking: make sure you are away from prying eyes, avoid unprotected public Wi-Fi, use anti-virus software on your computer, and make sure your smartphone's OS and the mobile app are up to date. Always log out of your secure area once you're done with it.
Are you convinced by the services offered by your online banking service? Take the plunge now and reap the benefits! You will get a newfound independence while still being able to contact your banking adviser for more specific requests. This is the whole point of a traditional bank: to offer innovative online services while retaining the human element.
*The online banking services offered may vary from one bank to another.